Cooker. Cooking phase attentively looked after.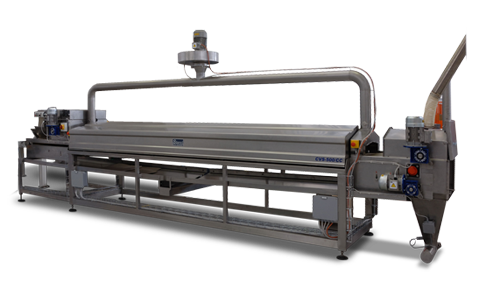 Cooker: cooking phase is very much looked after in order to obtain, by the vapour injection on both the higher and lower sides of the product, a deep and homogeneous cooking. The cooker is made of highly corrosion resistant stainless steel.
Unvarying cooking
The product, once entering the cooker, falls down on a mat made of peek material, that ensures a better vapour cooking. As soon as the product is inside the cooker, it is immediately levelled so that a very high layer of homogeneous product is formed and guarantees an unvarying cooking. Along the machine length there are injecting pipes that let the vapour enter the room and totally surround the product. At the cooking room exit, the product runs into a breaking lumps system; in the next phase, it falls into a sucking transport circuit that recovers the product directing it towards the dryer. The parts of the product that have not been properly crumbled, are re-selected and the lumps are brought back into the system to be crumbled as long as they reach the right grain size.

Absolute control of the vapour
Our cooker is fed by a vapour group that can be more or less complex. In the past, the first-generation machines used a manually adjusted quantity of vapour with no instrumentation. Today we have state-of-the-art instrumentations to let you count and control the vapour used for the cooking.
Effective cleaning of the cooker
the cooker cleaning system includes the connection of the water inlet directly to the machine piping. The cooker conveyor belt can be cleaned on its way, by means of a rotating brush that removes sticking crumbs. A system for the complete lift of the cooker lid is currently being studied so that the operator will be able to clean it more thoroughly. Furthermore, water used for cleaning is directed into a basin placed under the machine and carried toward a drain connected to the sewage system with a subsequent total and easy cleaning.