Management of solid additives, liquids and eggs
Do you have additives for your pasta? We have all the necessary systems for you. Reliability, sanitizability, dosing precision, safety and simplicity. This group of options, all wheeled, arise from the need for supplying an alternative to the ingredients dosed in the presses, compared to powder dosage.
A couple of tanks to safeguard the production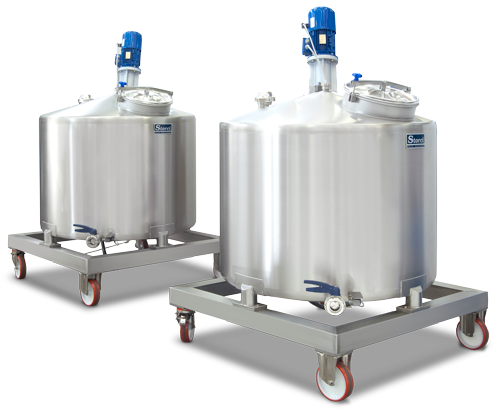 The storage and mixture of the additives with water take place in the tanks.
A couple of tanks are usually offered along with a dosing pump to safeguard the production and guarantee the times reduction, since one can be used during the dosing phase and the other one remains at disposal for preparing another mixture. The capacity can vary depending on modifications such as the press hourly production. The tank, ready with the product to be mixed, is placed near the press together with the pump (to which is joined by a flexible pipe).