Short pasta


Long pasta


Filled pasta


Double pasteurization


Stabilization


Freezing process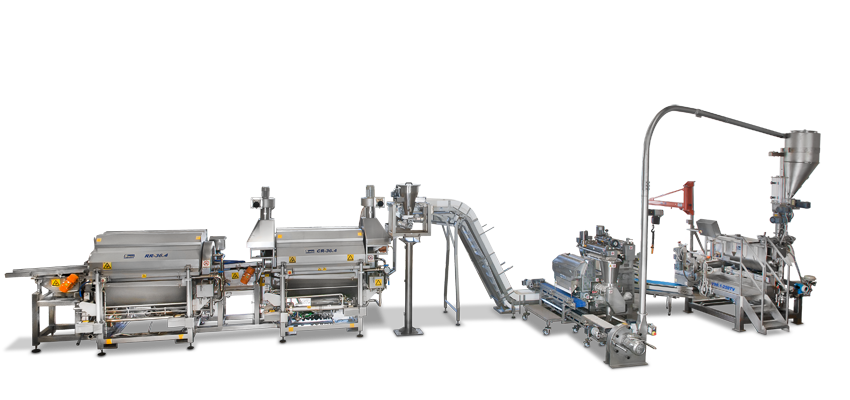 The best solution for you is R2E, a unique line for producing short, long and filled pasta. The beginning of the line is flexible and enables to produce pasta using a press and/or dough sheeter: if these are total vacuum machines by Storci, the cooking quality is guaranteed. The lines have been designed and created with a special attention to the cleanliness and hygiene of each detail, with capacities ranging from 600 to 5000 trays/hour. Great productions can be reached increasing the number of tray rows and using interchangeable metallic plates that have been shaped according to the trays dimensions. Packaging is also possible if the heat-sealer film is attached onto the same machine. The revolving cooking and cooling systems guarantee a wide range of working times in a limited area cover; you will be able also to cook dry pasta, rice, meat, fish and vegetables to expand your product range. A winning choice for your business.


Play the video

Flexible options for different needs
Long, short, filled pasta line can be customized according to your needs. Several options are available that make it suitable for any requirements.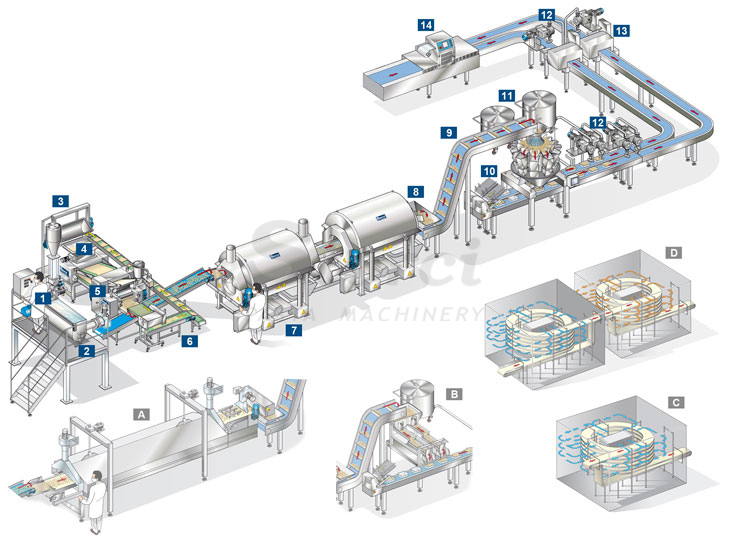 Legenda
1

Dosing and premixing system Premix®

2

Continuous extruder for short and long pasta

3

Kneading tank that can be turned upside down

4

Double exit automatic dough sheeter

5

Double dough ravioli making machine

6

Cutting and recovering scraps system

7

Continuous cooker

8

Product washing and cooling

9

Precooked pasta elevator belt and multi-head scale for product portioning

10

Unstacking trays device

11

Sauces storage tanks

12

Sauces dosing device

13

Weight monitoring

14

MAP packaging sealing unit
A

Linear cooker option

B

Volumetric dosing device option

C

Freezing process option

D

Double pasteurization option